This handsome boy needs a family to help him take the next step into his future.  The New Beginnings team met him in November 2016 and we are calling him Brooks.  He was born in January 2006. Brooks likes to sing songs and wrote his name in characters for the Team.  His favorite toy is puzzles and he shared that his favorite color is red. Brooks is a good listener and the caregiver reported he likes to help take care of the younger children.  He showed us his independence by trying all our activities and refused any help. He was sweet, gentle and connected with each member of the team.  He has a winning smile. His caregivers strongly advocated for him and they were committed to his developmental therapy.
Brooks shows great determination in all he does, as he has Cerebral Palsy, Spastic Diplegia.  He has had several muscle surgeries, as well as what they are calling a "brain paralysis operation".  He walks with a walker, but only used it for light support.  He can dress himself and was able to button and unbutton his coat, and take his shoes and socks off/on.  Brooks can do all his own self care except for bathing. He can get off the floor to his walker without any help. He could learn to do so much more with the help of a loving family.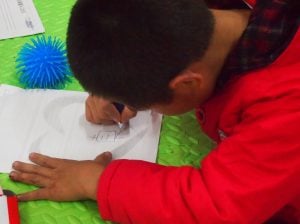 So Brooks waits for a family to see his amazing personality, sweet spirit and determination.  He is a boy with unlimited potential. He has come so far and is doing so well! Are you ready to help Brooks take his next step?  Could he be your son?  Please contact Amanda@NewBeginningsAdoptions.org for more information about Brooks.