Sheridan is a lovely girl who was born in January 2004. She has just turned 13 and this means she has very limited time left to find a family.  She met the Promise Kids team in November 2016.  She was very cooperative with all the activities we presented.  She could complete all fine and gross motor activities.  Sheridan lives with a loving foster family.  They report she has a "good temperament" and will tell jokes to the foster grandfather.  She was shy with the team and reportedly is not a talkative child.
Sheridan had eyelid surgery and her left eyelid seems over elevated. Her official diagnosis is postoperative bilateral upper eyelids pendulous.  She was able to track objects.   She has some café au lait spots. She is also reported to have a developmental delay.
The foster family reported she attends regular village school.  They told us she does well in school and does her homework.  Her favorite class in school is Physical Education.  Her favorite activities are jumping rope and sports. Her favorite color is blue and she likes spicy food.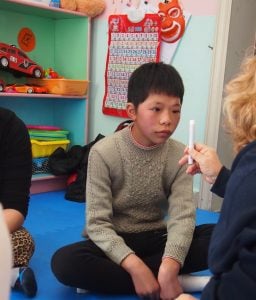 Sheridan is waiting for her forever family and her time is limited before she ages out.  She would be an amazing addition to your family.   For more information about Sheridan, or any of our Promise Kids, Please contact Amanda at Amanda@NewBeginningsAdoptions.org.