This amazing boy is waiting for a family. We are calling him Kobe. The New Beginnings team met him in November 2016. He made a connection with every team member as he played. He is a handsome and sweet boy. Kobe was born in January 2004. He is special in every way. Kobe told us he was waiting for a family and to travel to the United States.
Kobe was eager to tell us all the things he liked to do.  His favorite things include Basketball, Badminton and riding a bike. This shows his determination because he has clubbed hands. He is able to run, jump, catch and bounce a ball. He was well coordinated and goes to school in his orphanage. He is learning to read and write in mandarin and favorite subject in school is math. He eagerly shared that his favorite color was yellow and he enjoyed playing with blocks/legos. He also enjoyed playing with our glider planes and he wanted to color and draw for the New Beginnings team.  We laughed with this handsome guy as he learned how to shake hands for the very first time.  He connected so well with each member of the team individually. Kobe enjoyed learning new things and wanted to push himself to try everything.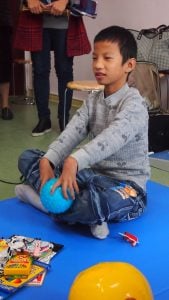 There was something very special about this boy.  It was more than just what he could do, how he played or his medical need.  It was Kobe's spirit.  He brought the fun to the room, he was eager to learn, play and make friends with the team. Kobe waits and his biggest need is to find a family who will love and cherish him.
Could you imagine Kobe as your precious son? If so please contact Amanda@NewBeginningsAdoptions.org for more information about Kobe.