We were able to meet 2 year old Martin for the first time in April. What a precious little guy! He was pretty shy and wary of us at first, but it didn't take him long to warm up. We learned that he came to live at our partner agency's children's home in January of this year. He has made a lot of progress in the few months he's been there. His caregivers told us that he is responsive to them and enjoys getting lots of attention – especially hugs!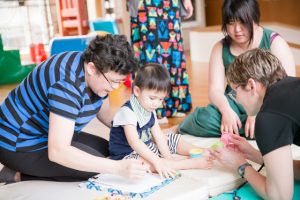 Martin loves anything red! He likes playing with balls and any toy that lights up or makes sounds. He also enjoys watching cartoons. His caregivers told us he also loves to eat!
Martin has overall delays and is not yet speaking, but he does participate in speech therapy and occupational therapy. Martin is suspected to be on the autism spectrum. We have his full profile and additional information from our meeting with Martin that can be shared. Please contact Taiwan program caseworker Amanda at Amanda@NewBeginningsAdoptions.org.