Meet Mandi, an adorable little girl who needs a forever family.
Mandi was born in September of 2016.  She was abandoned at approximately one month old, and she has lived in the orphanage since that time.
Mandi is described as adorable and active by her caretakers. She loves peering into a mirror and smiling at her reflection.
Mandi absolutely loves being held and teased by her caretakers.  She enjoys waking up and watching the sun rise.
When an update was prepared to her file in 2017, Mandi could raise her head when lying on her stomach and turn over.  She loves to lie on her back and grasp her toes. Mandi could also grasp a pen or pencil.  Her caretakers state that Mandi can cry and express when she is hungry or needs something.
Mandi is diagnosed with Down's syndrome and Congenital Heart Disease.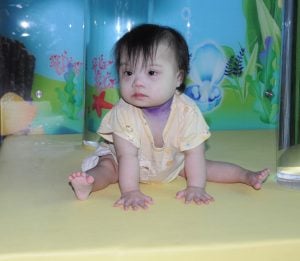 Mandi does have special needs, but her greatest need is a forever family.  Could that be you?  If you are interested in more information about Mandi, please contact McKenzie Garrison at mckenzie@newbeginningsadoptions.org.