Keats is a beautiful little boy, who was born in November 2016.
Keats is described as a lovely, smiley little boy. When he sees a caretaker, he will rollover and smile and dances for joy. He likes to play with his peers.
He likes toys that make sounds and building blocks. He can hold toys in from of him and beat them together. He can also exchange toys from one hand to the other.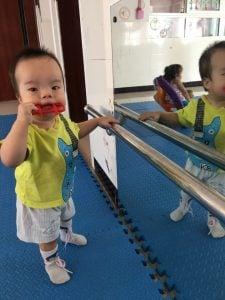 In an update from August 2018, the orphanage feels that he is making progress every day.  He is trying to practice walking every day.
In terms of speech, he can imitate adults to say some simple words sometimes. His language development is delayed as compared to typical healthy children of the same age.
He can walk with holding handrails.  He is practicing to walk by himself now.
The orphanage hasprofessional rehabilitation teachers to do corresponding rehabilitation training for him.
He is a very active kid.  He loves to play with nannies and other children.
He is diagnosed with malformation of partial pachygyria.
More than anything, this little guy needs a family, could that be you? For more information, please contract Adopt@NewBeginningsAdoptions.org.