Heath is a sweet boy who was born in October 2007.  He met the Promise Kids team in November 2016.  He was a sweet and shy boy who lives in foster care.  There are older adult children in the foster home but also young playmates.  Heath attends rehabilitation for Cerebral Palsy.  He has improved greatly from Rehab.  Heath can walk independently and jumps with both feet.  He has a little difficulty with unistance balance.  He is a sweet and gentle boy.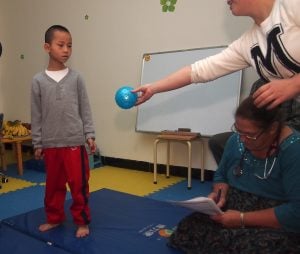 Heath attends regular school and we were told he is good in Math.  He reads and writes some mandarin.  He could copy shapes.  He has his own room in the foster home.  He enjoys watching TV and his favorite activity is watching cartoons.  We were told he does like to play with other children and is able to play and share well.
Heath has made a lot of progress with his rehabilitation.  He is waiting for a family to choose him as their precious son.  He is so sweet – could he be part of your family?  For more information about Heath or any of our other Promise Kids, please contact Amanda at Amanda@NewBeginningsAdoptions.org.