Hansen is a sweet boy the Promise Kids Team met in November 2016.  He was born in April 2004.  Hansen can speak very clearly and enjoys singing and painting.  Hansen colored neatly and wrote his name with a marker.   He acts as an older brother to other children and has been in foster care.   He enjoyed the team's play activities and had fun with everyone.  His happy smile touched everyone's hearts and made the team smile too!
Hansen is diagnosed with Cerebral Palsy.  He had scars that indicate surgery to increase muscle tone and muscle releases.  He can sit independently on the floor in a modified cross legged posture.  He can wash his face and eat independently.  Hansen uses a wheelchair for mobility.  He requires assistance for dressing and toileting. He has received rehabilitation and has improved greatly in his ability to move.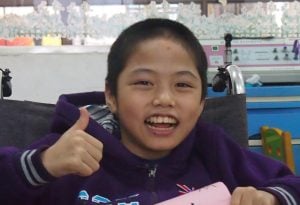 This boy is approaching 13.  His time to find his forever family is getting shorter.  There is a statement in his file indicating he hopes there is a family for him.  This is a boy who is full of happiness and fun.  He is just waiting for his family.  Could he be your son?  For more information about Hansen, Please contact Amanda at Amanda@NewBeginningsAdoptions.org.