Denver (2009) and Dallas (2011) are two amazing brothers from Taiwan in need of a forever family. They are energetic, funny, and smart little boys. They love to play outside, ride bikes, go swimming, play soccer and especially baseball. They seem to love all physical activities and played outside several hours a day for the two-weeks they were with our family. They also like doing things like puzzles, Hot Wheels, LEGO, and all things boy. They are curious and are very quick to pick up on new things (like language, starting the dishwasher, riding a ripstick, etc.)
Denver, the oldest brother, is more reserved, but he has a sweet spirit and is quite funny.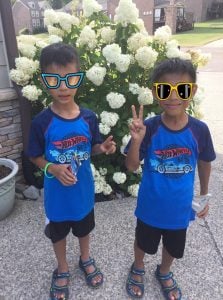 Dallas, the younger brother, is very boisterous and outgoing and is a very adventurous eater.
We cannot say enough good things about these boys…we love them so much and so desire for them to have a family of their very own.
Written By: Denver and Dallas' host mom