This is Autumn, and she is such a darling!  Now, we had to get super creative with the pictures that we publicly share for this little one, because of Taiwan's photo regulations, so please contact us if you'd like to know more about this sweet child.
Autumn is four years old.  She recently started pre-kindergarten, and her teachers state that she is hard-working and consistent in her work. She is a happy little girl, and she adores one-on-one attention.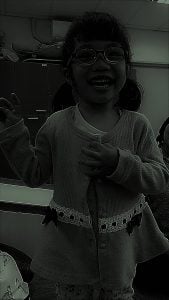 Autumn is very active.  She loves to run and hop on one foot.  She loves to play with colorful blocks, and she enjoys playing games with her friends.
Autumn's speech is delayed compared to other children her age, but she is able to communicate effectively.
Autumn is currently in a foster family with two older sisters, and she is doing well.
An advocacy trip is scheduled for April of this year, where many children, including Autumn, will be assessed.  More pictures and updated information will follow!
Would you like to learn more about Autumn?  Autumn needs a forever family, could that be yours?  If you would like more information about Autumn, please contact McKenzie Garrison at McKenzie@newbeginningsadoptions.org.