We've just fallen in love with Archie – could you be his forever family?
Archie is a kind little boy with a great big heart.  He is currently in the fourth grade, and he is working really hard in school.  He even won an award for his good grades!  His teachers report that he is really motivated to learn.
Archie has lived with the same foster family since he was just an infant.  His foster mother states that he is polite, gentle, and considerate of the other children he comes in contact with and helps care for the younger foster brothers in the home.
Archie LOVES Legos!  In fact, one of his favorite movies is The Lego Movie.  Archie also enjoys reading comic books, or books involving natural science.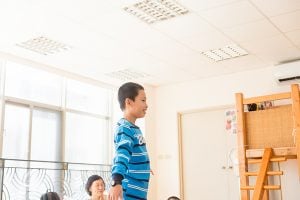 Archie has some weakness on the right side of his body, although he is able to walk and run.  Archie attends occupational therapy twice a week.
Archie also has cortical dysplasia, but he does not have epileptic seizures.
Archie's foster mother and social workers have spoken with him about getting adopted.  While he will be sad and nervous to leave his foster family, he understands that he won't be able to stay with them forever and that having a forever family will be the best thing for him.
Archie needs a forever family who will love him unconditionally.  Would you like to know more about Archie?  Please contact McKenzie Garrison at McKenzie@newbeginningsadoptions.org for more information.